"Action filmmakers work very hard, they often face injuries, even life-threatening, but they are always heroes behind-the-scenes. The attention and recognition for them in the industry and international film festivals are far from enough. The action film week is to recognize the world's filmmakers who have made outstanding contributionsto action films and speak for them. "—Jackie Chan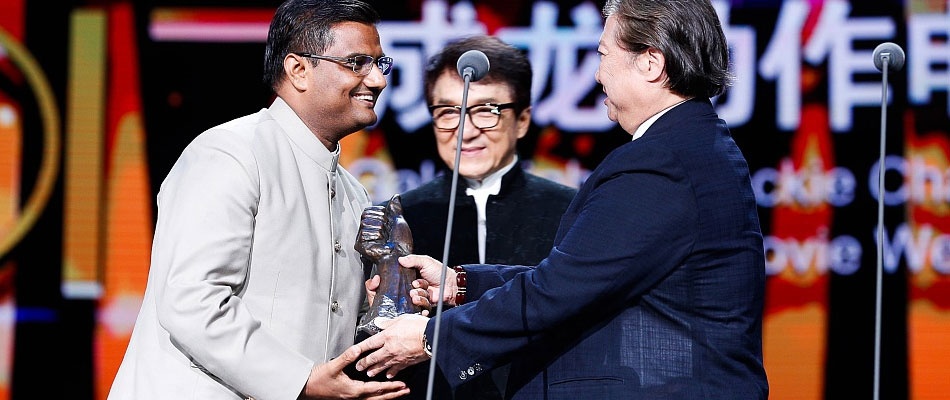 play
The 5th Jackie Chan International Action Film Week
21st July- 27th July 2019 Datong•Shanxi•China
01

Star Lights Campaign on Poverty EradicationThe Plan for the Conservation of Great Walls

02

The Opening Ceremony of the 5th Annual Jackie Chan International Action Film Week

03

The World Fans Carnival of the 5th Annual Jackie Chan International Action Film Week

04

Yungang Forum of the 5th Annual Jackie Chan International Action Film Week

05

The Closing Ceremony of the 5th Annual Jackie Chan International Action Film Week
Post for the 5th Jackie Chan International Action Film Week

On the evening of July 22nd, the awards ceremony of the 4th Jackie Chan Action Film Week was held in Datong. Apart from Jackie Chan, bankable movie stars including Jason Wu, Baoqiang Wang and Sicheng ...

On July 22, the 4th Jackie Chan International Action Film Week closed in Datong. The closing ceremony also gathered star-studded lineup. Apart from event sponsor Jackie Chan and 7 jury members includi...
Competition Section NewAction Film Shortlist
Classic Action Films Screening List
Kill'em All

After a massive shootout, a mysterious stranger (Van Damme) arrives at a local hospital on the brink...

Chasing the Dragon

The year is 1963, an illegal immigrant named Ho (Donnie Yen) sneaks into British-ruled Hong Kong. Eq...

Black Water

A deep cover operative awakens to find himself imprisoned in a CIA black site on a submarine.

Baby Driver

Baby is a young and partially hearing impaired getaway driver who can make any wild move while in mo...

Dangal

Biopic of Mahavir Singh Phogat, who taught wrestling to his daughters Babita Kumari and Geeta Phogat...

Explosion

Zhao Xudong is a blaster technician. When an explosion happens in the mine and kills four workers, Z...

Paradox

Hong Kong police negotiator Lee Chung-Chi has learned that his 16 year old daughter Wing-Chi has dis...

Brotherhood of Blades II: The Infern...

In the Ming dynasty of China, Shen Lian (starring Chang Chen), a secret police of corrupt government...

Detective Chinatown 2

Tang and Qin team up to solve a murder in New York's Chinatown.

A Better Tomorrow 2018

This film traces the journey of a former smuggler attempting to start his life anew and repair his r...
Drunken Monkey in the Tiger's Eyes

The father of Wong Fei-hong, who has been attempting to teach his son kung-fu, but has found him too...

Armour of God

Jackie Chan plays an ex-singer-turned-fortune-hunter, whose ex-girlfriend is kidnapped by an evil cu...

Armour of God II: Operation Condor

Agent Jackie is hired to find World War II Nazi gold hidden in the Sahara desert. He teams up with t...

Wheels on Meal

Cousins Thomas and David, owners of a mobile restaurant, team up with their friend Moby, a bumbling ...

Sing si lip yan

While searching for the daughter of a Japanese publishing magnate, private investigator Ryu Saeba an...

Police Story

Kevin Chan (aka Jackie) is a Hong-Kong cop, who scores his first big hit by virtually single-handedl...

New Police Story

Inspector Wing of the Hong Kong Police Force has become the victim of a gang, led by the evil Joe. W...

Kung Fu Yoga

Chinese archeology professor Jack (Jackie Chan) teams up with beautiful Indian professor Ashmita and...

The Foreigner

The story of humble London businessman Quan (Chan), whose long-buried past erupts in a revenge-fuele...

Project A II

Dragon Ma is back, having rid the seas of the dreaded Pirate Lo. Back on land, he is assigned to the...